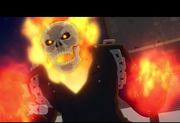 The Johnny Blaze version of Ghost Rider appears in the Hulk and the Agents of S.M.A.S.H. episode "Spirit of Vengeance", voiced by Fred Tatasciore.[27] This version is able to haunt and take control vehicles of all sizes, visualized by the vehicles catching fire and allowing weapons, such as some tanks he took over, to shoot fireballs. Unlike other versions of the Ghost Rider, this one could generate electricity and lightning from blue fire, as well as create a vortex of lightning that cured Abomination of his gamma and transformed him back into a human. However, like other versions, this one was able to make portals to other dimensions to appear on walls and other surfaces, such as a mountainside.
Community content is available under
CC-BY-SA
unless otherwise noted.