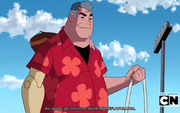 Maxwell "Max" Tennyson is a character inOmniverse from a universe without an Omnitrix and an alternate version of Max. He first appeared in And Then There Were None.
Apparence
He is basically the same as Max, except he possesses a prosthetic arm like one of his alternate timeline counterparts.
Abilities
Max's prosthetic arm has the ability to transform into a tool, and it also grants him super strength, enabling him to lift someone as large as Vilgax.
Episodes
And Then There Were None (first appearance)
And Then There Was Ben