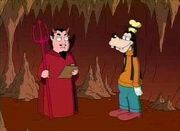 Goofy is an animated cartoon character from the Walt Disney's Mickey Mouse universe. He is an anthropomorphic dog and is one of Mickey Mouse's best friends. Goofy commonly wears a green hat, an orange shirt with a black vest, blue jeans, and long brown shoes. His original concept name was "Dippy Dawg" in cartoon shorts created during the 1930s; then his name was given as "George Geef" or "G.G. Geef" in cartoon shorts during the 1950s, implying that "Goofy" was a nickname. Contemporary sources, including the Goof Troop television show and its feature film, A Goofy Movie, now give the character's full name to be Goofy Goof. The Goof Troop pilot also refers to 'G. G. Goof' on a diploma, likely a reference to the 1950s name.
Family Guy
Michael Dorn buys a Goofy hat at Disney World before being transported to Stewie Griffin's bedroom in "Not All Dogs Go To Heaven".
Satan condemns Goofy to the pit of fire in "Dial Meg for Murder" for being involved in the September 11th terrorist attacks. Goofy admits to being part of it, because the United States supports Israel. This may be a reference to Walt Disney's purportedly anti-Semitic views.