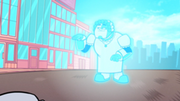 Maude Stone (or Grandma Voice) is a one-time character inTeen Titans Go! who appears in the episode Grandma Voice and also Cyborg's grandmother.
Episode
History
The "Grandma Voice" is an alter ego of Cyborg, who impersonates his own grandmother. Cyborg became obsessed with role playing it that it somehow managed to form its own life. Later, when Mother Mae-Eye found out that Cyborg was not a grandma, she knocked some "sense" into Cyborg, splitting him and his "Grandma Voice".
The Grandma Voice Ghost then briefly waves at Cyborg and tells him to take care of himself. The Ghost voice is last seen at the end of the episode happily dancing near her grave.
Trivia
It is unknown how the grandma voice became its own person.

It could be Cyborg's imaginary grandmother and never became its own person.

Cyborg turned into the grandma by clicking a button, however the Titans never clicked on the button, when they wanted to get rid of her.
Her thing is slapping sense.