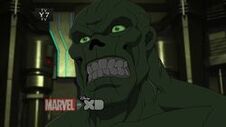 When Hulk followed Leader to World War II and met Captain America, they come across Leader's plot to enhance a replica of Abraham Erskine's lab and Super Soldier Serum with Gamma Energy to turn Red Skull into the Green Skull. Green Skull manages to overwhelm Hulk and Captain America. While Leader uses his Gamma Siphoner on Hulk, Green Skull frees Captain America in order to force him to surrender. This leads to an alternate present where Leader rules Hydra, uses a wheel-shaped device powered by Green Skull, and fights the Agents of S.M.A.S.H. alongside an older Captain America. Thanks to a tactic from Captain America before he can publicly mention his surrender over the airwaves, he manages to free Hulk who turns the Gamma Siphoner onto Green Skull regressing him back to Red Skull. Hulk then defeats Red Skull and Leader escapes causing the Hydra-dominated present to shift back to the real present.
Community content is available under
CC-BY-SA
unless otherwise noted.