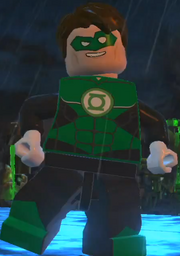 Hal Jordan is the Green Lantern of space sector 2814 and teams up with the Batman and Robin against the threat of the united villains.
Equipment
Green Lantern Ring

Energy Construct Creation
Energy Projection
Flight
Notes
This version of the character is exclusive to the continuity of the Lego Batman franchise and is an adaptation of Hal Jordan/Green Lantern. The original character was created by John Broome and Gil Kane and first appeared in Showcase #22.
Green Lantern was voiced by Cam Clarke begining with Lego Batman 2: DC Super Heroes. Josh Keaton took over the role beginning with Lego Batman 3: Beyond Gotham.