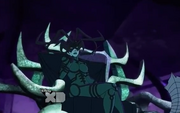 She was shown to be bored pairing her skeleton minions against each
other until Loki arrives to cut a deal with her. In exchange that Hela lends Loki the Horn of Hela to control her skeleton minions, she can get entertained by watching Hulk and Thor fight each other. Loki ends up tricking Thor and Hulk into heading to Valhalla where Hela makes them fight each other. When Hulk even tried to attack Hela, she temporarily transformed him back into Bruce Banner and then transformed him back into Hulk. After letting Hela send them back to Earth to continue their fight there, Hulk and Thor fight Loki where they take a dive against him. Hela deems Loki the winner of the fight as she has the giant skeleton that Loki formed take Loki back to Valhalla to keep her entertained in his fight against her skeleton minions.
Screenshots
Community content is available under
CC-BY-SA
unless otherwise noted.