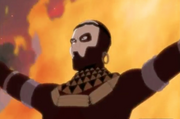 Hungan was an African witch doctor who once was worshipped by a small tribe of Kenyans. He reigned over the tribe until Storm drove him out, and was proclaimed the tribe's Goddess. Ten years later Hungan regained control of the tribe after Storm joined the X-Men, but sought revenge against her for being usurped initially. Hungan and his elite tribesman arrive at the X-Mansion, escaping with Storm as his prisoner. He confined Storm in a small box, triggering her severe claustrophobia in the process.
Hungan captured her will (possibly meaning her soul) into his sceptre, giving him the ability to control her body. The X-Men eventually located Hungan and his tribesmen but he used the mind-controlled Storm to attack them. Storm's nephew, Spyke used his powers to shatter the crystal atop Hungan's scepter, releasing Storm from his control. Angrily, Storm engulfed the Hungan in a force of wind that threw him into the sea. Afterwards Hungan's tribe disappeared into the mist.
Powers and Abilities
Powers
Mind Control: He was seen controlling Storm's body and will.
Paraphernalia
Weapons
He uses a sceptre
Notes
Voiced by Blu Mankuma
Community content is available under
CC-BY-SA
unless otherwise noted.