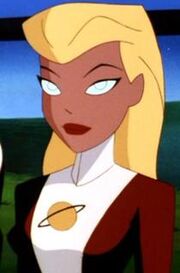 Saturn Girl appeared in the episode "New Kids In Town" of Superman: The Animated Series, voiced by Melissa Joan Hart. She appears in Superman's past with Chameleon Boy and Cosmic Boy.
Saturn Girl appears in the Justice League Unlimited episode "Far From Home".
Saturn Girl will appear in the 2019 DC Universe Original Movie Justice League vs. the Fatal Five, voiced by Tara Strong.
Screenshots