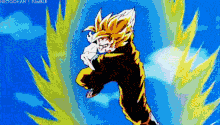 Instant Kamehameha (瞬間移動かめはめ波) is a combination of the Instant Transmission and Kamehameha used by Goku in his base (video games) and his various Super Saiyan forms. The technique is known as the Warp Kamehameha in the Budokai video game series, where Kid Buu uses his own version; a combination of the Planet Burst and Kamehameha.
Community content is available under
CC-BY-SA
unless otherwise noted.