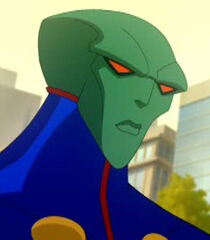 When J'onn J'onzz lost his family to a deadly invasion, he became the last Martian. After arriving on Earth to assist the heroes there against the invasion, he became known as John Jones as well as the super hero, the Martian Manhunter.
Powers
Super strength
Invulnerability
Martian Vision
Shape Shifting
Flight
Telepathy
Invisiblity
Relationships
John Jones - Human identity.
Martian Manhunter - Hero identity.
Superman - Teammate.
Batman - Teammate.
The Flash - Teammate.
Green Lantern - Teammate.
Aquaman - Teammate.
Wonder Woman - Teammate.
Imperium - Enemy
Crime Syndicate - Enemy.
Appearances/Voice Actors
Animated Canon (1 film)

Justice League: Crisis on Two Earths - Jonathan Adams