We're Getting Mutants in the MCU - The Loop
Play Sound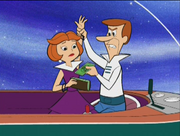 Jane Jetson is a fictional character in the futuristic Hanna-Barbara cartoon series, The Jetsons. She is the wife of George Jetson, mother of their two children,  & Judy, and a homemaker.
Jane Jetson: age 33 (self-reported in the first episode), is George's wife, mother of their two children, and a homemaker. Because she is so much younger than George she would have been only 17 at the time of Judy's birth. Jane is obsessed with fashion and new gadgetry. Her favorite store is Mooning Dales. She is also a dutiful wife who always tries to make life as pleasant as possible for her family. Although she is usually pleasant natured, she is quite protective of her family and she can be angered whenever they are threatened. She is also unafraid to stand up to Mr. Spacely, especially when he antagonizes her family and her husband.
Outside of the home, she is a member of the Galaxy Women Historical Society and is a fan of Leonardo de Venus and Picasso Pia. Although this wife of the future has both a robot maid and automated apartment appliances, even pushing buttons for housework gets to be too much for her and she has to take a vacation ("Dude Planet"). She has terrible driving skills, turning her driving instructor, a gangster and her husband into nervous wrecks ("Jane's Driving Lesson").
Jane appears, with Wilma Flintstone and Velma Dinkley, in a commercial for Dove shampoo. She even appears on Kanye West's music video "Heartless". In one episode ofAnimaniacs, a female space alien resembling Jane appears twice; once as a receptionist, and then again when a male alien trapped on a treadmill calls out the famous catchphrase "Jane! Stop this crazy thing!" where she comes to his aid.
She was included in Yahoo!'s Top 10 TV Moms from Six Decades of Television.[5]
Family Guy
In "Brian in Love", George becomes angry with her for leaving him outside on the dog walk in a parody of the show's closing credits.
In "Meet the Quagmires", George killed her for trying to take his wallet from him, instead of the money allowed. It is assumed that he then tossed her out of the space car and she fell to her death.
In "Play It Again, Brian" an artist draws Lois and Brian Griffin as Jane and Snoopy, respectively.