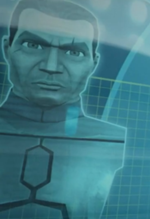 Jango Fett
 was a Human Mandalorian male who served as the template for clone troopers.
Clone Wars
Jango was hired by Count Dooku to be the template for the clone trooper army on the planet Kamino. In return, along with a large amount of credits, he requested for an unaltered clone: a clone that he took up as his own son and named Boba Fett.
Jango's son, Boba Fett, would eventually team up with Aurra Sing and Bossk to avenge his father's death by attempting to murder Mace Windu, the very man who killed Jango back at Geonosis at the start of the Clone Wars but failed.
Appearances
The Hidden Enemy (Mentioned only)
Clone Cadets (Mentioned only)
ARC Troopers (Appears in hologram)
The Mandalore Plot (Mentioned only)
Death Trap (Mentioned only)
R2 Come Home (Mentioned only)
Lethal Trackdown (Mentioned only)
Fugitive (Appears on holographic screen)
Community content is available under
CC-BY-SA
unless otherwise noted.