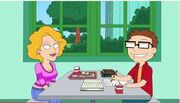 Jenna is a girl who Steve has a crush on in "Introducing the Naughty Stewardesses".
When the school football coach tells her boyfriend Figgus to drop Jenna to concentrate on football, leaving the door open for Steve to try to win her over, he fails to even talk to her from being nervous. He tells his problems to Roger who talks him into swapping faces using one of his alien devices. After spending some time with her, Roger refuses to return Steve's face and continues going out with Jenna. But when she tells him he's pregnant, both Roger and Steve have to find a way to get her hooked back up with Figgus. Roger uses the device to swap faces with the coach to relive Figgus of the extra football time to be with Jenna.
Jenna is voiced by Ellie Kemper.
Screenshots