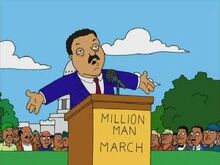 Jesse Louis Jackson, Sr. (born October 8, 1941) is an American civil rights activist and Baptist minister. He was a candidate for the Democratic presidential nomination in 1984 and 1988.
In "I Am Peter, Hear Me Roar", Peter Griffin interrupts the Million Man March to voice his opinion of men which is misinterpreted by the black men of the crowd.
In "E. Peterbus Unum", Mayor Adam West invited Jackson to the Operation Desert Clam peace treaty signing. As he was unavailable, singer La Toya Jackson, unrelated, attended in his place.