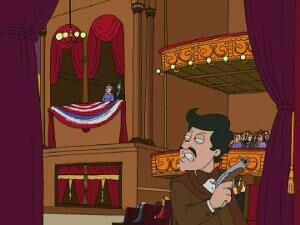 John Wilkes Booth, (May 10, 1838, - April 26, 1865) was the man who assassinated the 16th president of the United States Abraham Lincoln.
In "Mind Over Murder", he starred in a Mintos commercial.
He appeared in "Holy Crap" when Peter Griffin imagined himself in Hell and witnessing a card game with Adolf Hitler,Al Capone, John Wilkes Booth, and Superman.
He later appeared in "Tales of a Third Grade Nothing", where he is shown taking out a gun and preparing to shoot Abraham in the head because his hat is too tall and he can't see.