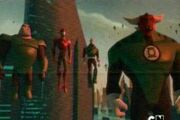 Real Identity: Ke'Haan Affiliation(s): Green Lantern Corps Appearances: Reboot, Ranx, and Dark Matter Powers/Skills: Wields Power Ring Voiced By: Not Applicable
Ke'Haan, of Varva, is Green Lantern of Space Sector 786 and student of Kilowog. He was one of the Green Lanterns dispatched to Ranx and Maltus.
Community content is available under
CC-BY-SA
unless otherwise noted.