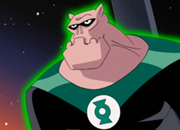 A member of the Green Lanterns.
History
Kilowog is a Green Lantern from Bolovax Vik and a good friend to John Stewart. He was present at his trial at Ajuris-5, and fought alongside Katma Tui, Galius Zed and Arkkis Chummuck at Ranstad-7.
He is a gifted scientist in the field of thermodynamics. He assisted the Justice League in taking down Despero and raiding the Flame of P'ytar with J'onn J'onnz and Flash. After Despero's fall, he helped rebuild Kalanor.
Kilowog joined the pursuit of Amazo to Earth after the android had seemingly destroyed Oa.
Powers and Abilities
Abilities
Science: Kilowog is an expert on thermodynamics.
Omnivorous: Kilowog can eat anything and declare it delicious - whether it was a bucket of ice-cream (with bucket and all) or a VHS tape.
 
Paraphernalia
Equipment
Green Lantern Power Battery
Weapons
Green Lantern Ring

Energy Construct Creation
Energy Projection
Flight
 
Oath
Oath unknown.
Notes
This version of the character is exclusive to the continuity of the DC Animated Universe an adaptation ofKilowog. The original character was created by Steve Englehart and Joe Staton and first appeared inGreen Lantern Corps #201.
Kilowog was voiced by Dennis Haysbert.
Appearances 
Superman: The Animated Series
"In Brightest Day..." (Cameo in hologram)
Justice League
"In Blackest Night"
"Hearts and Minds"
"Hereafter, Part I" (Cameo)
Justice League Unlimited
Community content is available under
CC-BY-SA
unless otherwise noted.