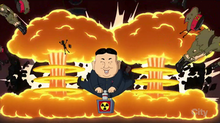 Kim Jong-un (born 8 January 1983), also referred to as Kim Jong-eun, Kim Jong Un or Kim Jung-eun, is the supreme leader of the Democratic People's Republic of Korea (DPRK), commonly referred to as North Korea. He is the son of Kim Jong-il (1941–2011) and the grandson of Kim Il-sung (1912–1994). Under his leadership, North Korea has threatened South Korea and the United States with nuclear attack.[1]
During the song "Come On Home" in "Candy Quahog Marshmallow!", Peter, Cleveland and Joe try to talk Quagmire out of staying in South Korea when he decides he wishes to stay there with his former lover, Sujin. They point out the danger he faces with Kim Jong-un and North Korea so nearby.
Community content is available under
CC-BY-SA
unless otherwise noted.