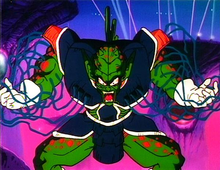 Kishime (キシーメ, Kishīme) was one of the three Bio-Warriors created by Dr. Kochin that serve Dr. Wheelo.
Techniques
Flight - Kishime is shown to have the ability to fly in Dragon Ball Heroes.
Unnamed teleportation technique – A technique that resembles the Afterimage Technique yet as Goku himself points out it is not After-Image technique as his ki disappears when he does (like with Instant Transmission and/or Instantaneous Movement). It may possibly be some form of Instant Transmission or Instantaneous Movement.
Electric Whip – Kishime attacks and shocks his opponent with a whip made of electricity. He uses this against Master Roshi, and later against Goku.
Lightning Blende – Kishime sprouts electric whips from his arms and chest to catch and shock his opponent. He uses this against Krillin and Gohan.
Kishime can physically attack his opponent while having electric whips around his arms. He tried this against Goku.
Community content is available under
CC-BY-SA
unless otherwise noted.