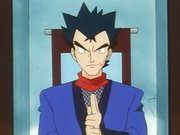 Koga (Japanese: キョウ Kyō) was the Leader of Fuchsia City's Gym. He is a student of ninjutsu who specializes in Poison-type Pokémon. He handed out the Soul Badge to Trainers who defeated him.
He was promoted to a Master Poison-type Trainer and became a member of the Indigo Elite Four some time after the events of Generation I and its remakes, but before the events of Generation II and its remakes, thus leaving his daughter Janine in charge of the Fuchsia Gym.
History
Koga's only anime appearance was in the episode The Ninja Poké-Showdown.
Koga is a ninja who trains in an old mansion, the Fuchsia City Gym, in the woods outside Fuchsia City. The Gym is filled with traps such as fake mirrors, invisible walls, pits, and many Voltorb. Aya, Koga's younger sister, is one of his students.
Ash, Misty, and Brock managed to overcome the traps in the Gym and Ash was finally able to challenge Koga. AlthoughAsh's Pidgeotto initially lost to Koga's newly-evolved Venomoth, prompting Ash to call out Charmander, their match was interrupted when Team Rocket tried to steal Koga's large supply of Voltorb, although they had raided the Gym with the intent of getting Poison-type Pokémon. Team Rocket was stopped by Psyduck, allowing Ash and Koga to have a rematch. Pitting Charmander against Koga's Golbat, Ash triumphed and won the Soul Badge.
He reappeared in a flashback in The Fires of a Red-Hot Reunion!.
Pokemon
Venonat → Venomoth
Golbat →Crobat
Scyther
Voltorb→Electrode
Koffing→Weezing
Grimer→Muk
Ariados
Forretress
Skuntank
Toxicroak
Swalot
Nidorina
Nidorino 
Hypno 
Tangela 
Parasect 
Gligar
Magmar
Lapras
Lanturn
Stantler
Rhyhorn → Rhydon
Gastly
Ekans→Arbok
Tentacruel
Articuno
Ninetales
Chansey 
Weedle→Kakuna→Beedrill
Ditto
Pidgey→Pidgeotto
Community content is available under
CC-BY-SA
unless otherwise noted.