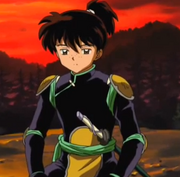 Voiced by: Akiko Yajima (Japanese), Alex Doduk (original series eps. 24-101), Danny McKinnon (original series eps. 102-167, movie 2, games), Aidan Drummond (The Final Act) (English)
Kohaku (琥珀?) is Sango's eleven year old brother who, like his family, is also a demon exterminator. Disguised as a young nobleman, Naraku summons Sango's family and companions to slay a false demon on Kohaku's first day on the job, then controls him with a Shikon shard and makes him kill all of the other exterminators, with Sango surviving solely by sheer luck. While Kohaku is seemingly killed by the castle's guards, Naraku resurrects him as an amnesiac puppet to use against his sister using a shard from the jewel. After several encounters with Sango and her friends, Kohaku begins to recover his painful memories, and is aversive to confronting the memories. Kagura helps him escape from Naraku, and later joins with Kikyo. When being with Naraku, or with the Band of Seven, Kohaku was allowed to be free-willed. After being freed from Naraku's grasp with a Jewel shard embedded in his back, traveling with Kikyo, and several encounters with Sango, he decides to stay with Kikyo because staying with her soothes his soul. When Kikyo was tainted with Naraku's spider webs, he was forced to leave in order to prevent his shard from being tainted. Kohaku also has a good relationship with Rin, becoming fast friends after meeting, and became protective of her in the Final Act.
At the end of the series even if he and Rin are still friends, Kohaku travels with Kirara to continue his demon-slaying job and saying that he was not going to return because the house was getting "crowded" with his brother-in-law, Miroku, and his two nieces and nephew.