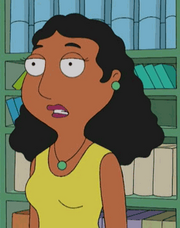 Linda Memari is the wife of Bob Memari. Like her husband, she is of Iranian heritage. When they first moved into Langley Falls in "Homeland Insecurity", Stan relentlessly stalked both Linda and Bob, believing them to be part of a terrorist sleeper cell. Linda is also shown to have an attraction to Francine Smith as in "Rough Trade" she remarks about Francine being sexy and even unbuttons her shirt to show her cleavage when she goes to the Smith household and in "Not Particularly Desperate Housewives", she kisses Francine in order to convice the Ladybugs that Francine was having a lesbian affair. Francine thanks her for the fake kiss with Linda awkwardly responding back before running off. 
Episodes
"Homeland Insecurity"
"Not Particularly Desperate Housewives"
"Rough Trade"
"Lincoln Lover"
"American Dream Factory"
"An Apocalypse to Remember"
"I Can't Stan You"
"Meter Made"
"Dope & Faith" (mentioned)
"Haylias"
"Widowmaker"
"Stanny Slickers 2: The Legend of Ollie's Gold"
"Phantom of the Telethon"
"Live and Let Fry"
"Roy Rogers McFreely"
"Every Which Way But Lose"
"Shallow Vows"
"A Jones for a Smith"
"An Incident at Owl Creek"
"100 A.D."
"The Missing Kink"
"News Glance With Genevieve Vavance"
"Dreaming of a White Porsche Christmas"
Screenshots