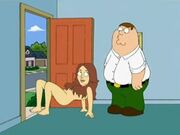 Lindsay Lohan (born July 2, 1986) is an American actress, pop singer and model. She began her career as a child fashion model before making her motion picture debut in Disney's 1998 remake of The Parent Trap at the age of 11. Lohan gained further fame between 2003 and 2005 with leading roles in the films Freaky Friday, Mean Girls and Herbie: Fully Loaded, subsequently appearing in independent films including A Prairie Home Companion and Bobby.
Her career was interrupted in 2007 as two driving under the influence (DUI) incidents and three visits to drug rehabilitation facilities led to several lost movie deals. Her later violation of probation landed her in jail in 2010.
In "The Father, the Son, and the Holy Fonz", Kelly and Todd have just departed from a fertility clinic. He tells her to imagine a happy healthy baby boy at play, put him in a magic bubble and release him into the universe.Stewie Griffin, in his decontaminatory bubble, rolls by, so the man then tells his wife to imagine Lohan naked and doing a backwards crab walk. Later, Lohan appears at Peter Griffin's door doing the backwards crab walk, which confirms Griffin's belief in The Fonz and motivation to go through with founding the Church of the Fonz.
During "Stewie B. Goode", the first segment of Stewie Griffin: The Untold Story, it is revealed that Lohan's partying antics grind Griffin's gears, as revealed in an installment of his Quahog 5 News segment, What Really Grinds My Gears.
In "I Dream of Jesus", she attends a party that Jesus attends without Peter. While drunk, she takes her top off and asks if anyone wants to have sex with her.
In "We Love You, Conrad", it is revealed that her DUI was a result of taking the blame for Mr. Magoo.
When Peter's thought process trips up the show directors on a cutaway in "Thanksgiving", they slip in a cutaway of The Cowardly Lion as Lindsay Lohan's gynecologist.
Stewie reads a "scratch and sniff" book titled Lindsey Lohan Goes Jogging at the Tiny Tots Preschool in "Be Careful What You Fish For".
Peter lick's Lindsey's dessert fork in an attempt to get sick in "Total Recall", but threatens a bus boy after developing an craving appetite for cocaine.
She is voiced by Sarah Utterback in her appearances, but is voiced by Amanda MacDonald in "I Dream of Jesus", when she wasn't seen.
Community content is available under
CC-BY-SA
unless otherwise noted.