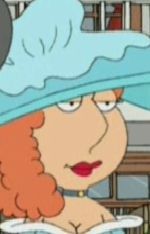 Lois Laura Bush Lynne Cheney Pewterschmidt appeared in "Untitled Griffin Family History" as Silas Pewterschmidt's daughter.
She started an inter-racial family in secret with Nate Griffin. Their family back then looks exactly the same as the present day family, aside from them being black. Her name is taken from the wives of President George W. Bush and Vice President Dick Cheney, Laura Bush and Lynne Cheney, respectively. She is meant to resemble Lois Griffin. She is voiced by Alex Borstein.
She was first mentioned in "Peter Griffin: Husband, Father...Brother?", where it was also mentioned that she has a sister.