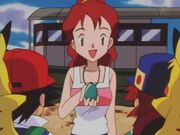 Luka (Japanese: ルカ Luka) is a recurring character in the Pokémon anime. She lives in Ogi City on Yellow Rock Isle. Luka's first appearance was in the episode Mantine Overboard!. She was trying to find the Silver Wing like her great-grandfather before her. With the help of Ash and his friends, she successfully recovered the Silver Wing which had been lost when her great-grandfather's ship sank many years before. She then offered to give Ash, Misty, and Brock a ride to Red Rock Isle on her boat. She later met up with them again in The Mystery is History. She helped save the adult and baby Lugia near Ogi Isle.
Screenshots
Community content is available under
CC-BY-SA
unless otherwise noted.