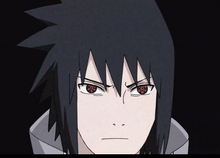 Sasuke Uchiha awakened his Mangekyō Sharingan after the death of his older brother, Itachi Uchiha. With his left Mangekyō he can cast Amaterasu. With his right Mangekyō he can shape the flames or extinguish them. Because he awakened both of his Mangekyō, he can use Susanoo. Sasuke is initially reluctant to transplant Itachi's eyes and gain the Eternal Mangekyō Sharingan, claiming that his views were different from Itachi's. Later, he decided he needs the increase of strength in order to kill Naruto Uzumaki. The straight tomoe of his Eternal Mangekyō Sharingan grant him fluidity in his movements when fighting.
After acquiring the half of Hagoromo's chakra, Sasuke's left Mangekyō Sharingan evolved further into a unique version of the Rinnegan.
Community content is available under
CC-BY-SA
unless otherwise noted.