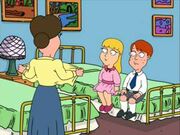 Mary Poppins is a series of children's books written by P. L. Travers and originally illustrated by Mary Shepard. The books centre on a mysterious, vain and acerbic magical English nanny, Mary Poppins. She is blown by the East wind to Number Seventeen Cherry Tree Lane, London and into the Banks' household to care for their children. Encounters with chimney sweeps, shopkeepers and various adventures follow until Mary Poppins abruptly leaves, i.e., "pops-out". The adventures take place over a total of eight books. However, only the first three books feature Mary Poppins arriving and leaving. The later five books recount previously unrecorded adventures from her original three visits. As P.L. Travers explains in her introduction to Mary Poppins in the Park, "She cannot forever arrive and depart."
The books were adapted in 1964 into a musical Disney film starring Julie Andrews and Dick Van Dyke. In 2004, Disney Theatrical produced a stage musical adaptation in the West End theatre. The stage musical was transferred to Broadway in 2006.
In "Lethal Weapons", Lois Griffin says she is cutting loose just like "Julie Andrews in that movie where she shows her breasts," leading to a cutaway in which Poppins inexplicably opens her blouse. In reality, the movie Lois is referring to is the 1981 film S.O.B..
In "Padre de Familia", Michael and Jane Banks meet a gruesome fate when Peter Griffin accepts the job as nanny but crash lands on the children, instantly killing them. He unintentionally vomits on their corpses.
Community content is available under
CC-BY-SA
unless otherwise noted.