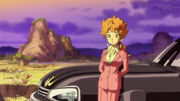 Miss Piiza
 (ピーザ) is the promotional agent of Mr. Satan and his two top disciples, Caroni and Pirozhki. She appears in anime-only scenes during the Cell Games Saga, and also appears in a brief cameo during the Majin Buu Saga and Monaka Saga of Dragon Ball Super.
Video game appearances
The Hercule Exhibit #10 in Dragon Ball Z: Buu's Fury is the Piiza Action Figure. The Lighthouse Keeper in the Thieves Den gives it in exchange for a root beer. The in-game description for this item is: "Hercule's P.R. Manager Piiza comes to life in this posable figure. Comes with three different outfits."
Voice actresses
Japanese: Miyoko Aoba (DBZ); Kumiko Nishihara (DB Kai), Yukiko Morishita (Super)
FUNimation dub: Linda Chambers-Young
Brazilian Portuguese dub: Márcia Regina
Trivia
It is hinted that she and Mr. Satan may have had some sort of an affair. At one point during the Cell Games, Mr. Satan grabs a hold of her in fear and she blushes and replies "We're in public". Mr. Satan immediately releases his hold on her and she comments "You haven't done that in a while..."
In Dragon Ball Z: Buu's Fury, an action figure of her and Mr. Satan can be displayed in Hercule Cafe under the caption "Pizza Action Figure".
Miss Piiza is only Mr. Satan's limo driver in the anime version of Dragon Ball Super. In the manga the limo driver is someone unnamed.
Screenshots
Community content is available under
CC-BY-SA
unless otherwise noted.