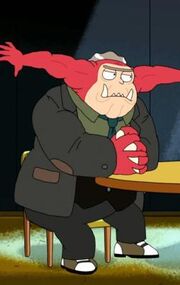 Mortimer "Morty" Smith, Jr. is Morty Smith's son. He was conceived by Morty and a Gazorpian sex robot named Gwendolyn in the episode "Raising Gazorpazorp". Morty Jr. grew from an infant to a full adult at a hyper-increased rate, allowing him to quickly outgrow his father.
Appearances
As a character of the day, Morty Jr. appeared in Raising Gazorpazorp. While not actually present, he is mentioned in Rixty Minutes when Rick and Morty tune to Gazorpazorpfield.
Personality
Being half-Gazorpian, Morty Jr. is prone to violence and destruction and has a difficult time fending off these urges. While he has the humanistic tendencies to listen and be non-violent, his Gazorpian genetics influence him to seek out destruction and death. After being swayed with words, he decides to be a creative type and later channels his destructive nature in writing.
Post-credits, an aged Morty Jr. has an interview about a book he wrote, "My Horrible Father". Becoming much calmer and suppresing his Gazorpian urges to kill and conquer, Morty Jr. expresses a cynic and dark view of his childhood, criticizing his father Morty for raising him imprisoned.
Trivia
Aging quickly, Morty Jr., like most citizens of Gazorpazorp, grew from an infant to a young adult in less than 24 hours.
Unlike other citizens of Gazorpazorp, Morty Jr. possesses 2 main arms instead of 4. This trait was likely passed down from Morty's genes.
His favorite channel is the History Channel.
Unlike his father, Morty Jr. hates cartoons and videogames.
Before his father told him, Morty Jr. was unaware that he was alien-human hybrid as he asked "I am an alien?"
Since Gazorpians age very quickly, previously stated that he grew to a young adult in less than 24 hours, he can be presumed dead given his advanced aging and that he was already well into his mid-life shortly after going out on his own.
He can be seen on the Loot Crate exclusive puzzle.
Community content is available under
CC-BY-SA
unless otherwise noted.