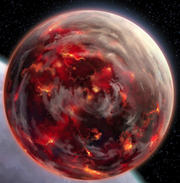 A Place where the Jedi go to die.
History
Shortly after the founding of the Empire, Obi-Wan Kenobi faced his former padawan, Anakin Skywalker, on the planet.
Skywalker was critically injured during the duel, and was taken back to Coruscant to be rebuilt as Darth Vader.
Kanan's capture
Shortly after he was captured, Jedi padawan Kanan Jarrus was transported to an Imperial facility there under the supervision of Grand Moff Wilhuff Tarkin.
Appearances
"Rebel Resolve" (Mentioned only)
"Fire Across the Galaxy" (First appearance)