The Sandman Will Keep You Awake - The Loop
Play Sound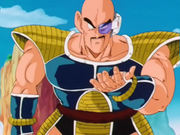 He is the Commander in Chief of the entire Saiyan Army. He is Prince Vegeta's former partner.
Super Powers
Chiaotzu can't Hypnotise him.
He can leave a Crater so deep that Piccolo can't even see the Bottom. The amount of Energy that must of taken is outrageous.
The Earths gravity is so weak compared to Planet Vegeta that flying around in it is a breeze.
Trivia
According to Nappa he is the Second Strongest Saiyan in the Universe.
According to Vegeta its strange just a year ago he couldn't beat Raditz and now he is making sport of Nappa.
Vegeta has never heard of anyone increasing there Power Level that much in one year.
Killed
A List of People who he Killed.