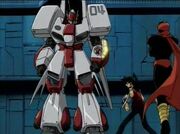 Write the first paragraph of your page here.
History
Write the first section of your page here.
Deck
#main
Mechanicalchaser x3
Robotic Knight
Overdrive
Ground Attacker Bugroth
Oni Tank T-34
Cyber Falcon
Giga-Tech Wolf
Gradius x3
Perfect Machine King
Barrel Dragon
Jinzo
Machine King x2
Reflect Bounder
Blast Sphere x2
Cannon Soldier x2
Sangan
Gradius' Option x2
Heavy Storm
Dimensionhole
Hammer Shot
Riryoku
Card of Sanctity
Upstart Goblin
Short Circuit
Dark Factory of Mass Production
Mystical Space Typhoon
Limiter Removal
Cyclon Laser
United We Stand
Autonomous Action Unit
7 Completed x2
Backup Soldier
Mirror Force
Sakuretsu Armor
Call of the Haunted

#extra
 Gatling Dragon
 Labyrinth Tank
 Sanwitch
 Amphibious Bugroth

Community content is available under
CC-BY-SA
unless otherwise noted.