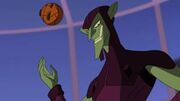 Write the first paragraph of your page here.
Goofs
It is revealed that Harry's mother is still present in their family. Most comic and movie incarnations of the Osborn's show only Norman and Harry.
Trivia
During the fight with Electro, Spider-Man crashes into a sign that reads "Oscorp: Engineering the Future."
It was never revealed if the Green Goblin is really Norman Osborn or his serum induced son, Harry.
Over the phone, Norman Osborn refers to the person who gives him Menken's address as "Gargan." This is most likely the character Mac Gargan, a private investigator who will one day be the villain called The Scorpion.
Photos of Norman Osborn, Adrian Toomes and Dr. Twaki are shown in Otto Octavius' home.
The Goblin's Glider has a built-in razor on the front, like most recent adaptations of the character.
The license plate on Norman Osborn's limo reads "OsCorp."
This episode's theme song featured Peter Parker, Gwen Stacey, Harry Osborne and Norman Osborne.