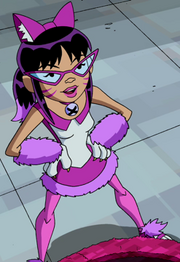 Nyancy Chan
 is a female human villain with the power to control feline species. She appears in 
Omniverse
.
Appearance
Nyancy is shown to be a human Asian girl with black-purple hair in the style of a long ponytail with a pink bow on her head that resembles cat ears; and four purple lines on her face that resemble whiskers. She also wears glasses, sports a white and light purple dress with pink tights, light purple sneakers, a cat bell on her neck, and cat paw-like gloves.
When Nyancy activates her powers, the her pupils turn into cat-like eyes.
Personality
She is very obsessed with felines, sometimes even acting like them, such as meowing like one. She has a tendency to purr and meow whilst talking and hypnotizing cats.
Powers and Abilities
She can hypnotize cats or anything cat-like to do her bidding.
She has enhanced jumping and reflexes, as she can dodge Blitzwolfer's attacks.
Weaknesses
She can't fully control cat-like beings, as shown with Rook, but can still control aliens that are more cat than man, as shown with Rath. However, Rath's dim-witted personality made him volatile.  
Her powers have no effect on canine-like aliens such as Blitzwolfer. This also goes for any other alien that aren't feline-based.
​​Appearances
Ben 10: Omniverse
Special Delivery (first appearance; cameo)
Tummy Trouble
Catfight
The Most Dangerous Game Show (cameo)
Etymology
Her name comes from the word Nyan (the Japanese onomatopoeic equivalent of Meow).
Trivia
Nyancy Chan's passion for cats makes her similar to Catwoman from DC's Batman.
She is like Yu-Gi-Oh! Zexal's Cathy Katherine in that she dresses like a cat and is able to control cats and use them to attack others.
Community content is available under
CC-BY-SA
unless otherwise noted.