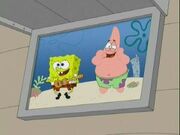 Patrick[1] Star[2] (born February 26[3]) is the deuteragonist of the SpongeBob SquarePants series. He is an unintelligent and pleasant sea star who is SpongeBob's best friend as well as one of his neighbors. Patrick is quite overweight and enjoys eating ice cream and many other kinds of junk food.
He lives under a rock in the underwater city of Bikini Bottom. SpongeBob and Squidward are his neighbors. Patrick and SpongeBob like to bother Squidward. Patrick has a big sister named Sam Star. Her first mentioning is in "Something Smells" and her first appearance is in "Big Sister Sam." He has the third most appearances in the series with 266 episodes, behind Squidward with 288 appearances and SpongeBob in all of the episodes.
Section heading
Write the first section of your page here.
Section heading
Write the second section of your page here.
Community content is available under
CC-BY-SA
unless otherwise noted.