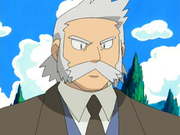 Professor Rowan is the authority on Pokémon in the region of Sinnoh, the setting of the Pokémon video games Pokémon Diamond and Pearl and Pokémon Platinum. Professor Rowan's name derives from the rowan tree, continuing the trend of the names of Pokémon professors deriving from the names of trees, while his Japanese name refers to Sorbus commixta, the Japanese Rowan tree.
Rowan's laboratory is located in Sandgem Town, making him the first professor in the Pokémon series not to live in the protagonist's town. He specializes in the research of Pokémon evolution and is considered a senior researcher to Professor Oak, whom he is old friends with. He gives the player a Pokédex, and allows him or her and the rival to keep one of the three Sinnoh Starter Pokémon (Turtwig, Chimchar and Piplup) each after they are attacked by Starly while searching for a rare Pokémon, having seen a Red Gyarados on TV appearing at Lake Verity (a reference to Pokémon Gold and Silver).
Professor Rowan appears in the first episode of Pokémon Diamond and Pearl, "Following a Maiden's Voyage!" He meets Dawn and later gives her Piplup. He owns a Starly and a Staraptor. He runs a Pokémon Summer Academy; he is shown to be serious in nature as is exhibited by his breaking up Ash and Angie's constant fights and surprising them when they are late arriving to the Summer Academy.
Community content is available under
CC-BY-SA
unless otherwise noted.