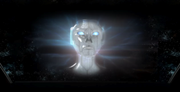 SARA is TOM's AI matrix companion introduced in part one of the first Toonami Total Immersion Event,The Intruder on August 18, 2000, though her voice was heard in TOM's introduction since his introduction in 1999. SARA was originally voiced by British alternative singer "Cowboy" Sally Timms, with her current incarnation voiced by Dana Swanson.
Sara 3.0
On April 28, 2013, when the Toonami look overhaul (TOM 5, Absolution Mk III, etc.) was to take place as previously announced, Toonami fans received a special surprise. A redesigned SARA, SARA v3.0, complete with a new voice actor, Dana Swanson. She now currently hosts the block alongside Tom.
Her design is a mixture of version 1.0 and version 2.0, with her form coming from version 1.0, but with a slightly altered design and updated graphics, and her color scheme coming from version 2.0.
#BringBackSara
BringBackSara was a campaign started by Toonami fans on Twitter to try to get Adult Swim to know that they wanted SARA to return as TOM's co-host on the newly revived Toonami block, where she had yet to make an appearance.
On the Tumblr, the crew stated that they intended to bring SARA back when they had the budget to animate her in HD. They also stated she would have a new voice since they wouldn't be able to afford Timms. On March 10, 2013, it was announced a new comic will be released showing where Sara and the Clyde's were. When Tom 5 and the new Absolution were announced it was stated "no Sara and Clydes yet", hinting her return. Eventually she returned on April 28, 2013.
Community content is available under
CC-BY-SA
unless otherwise noted.