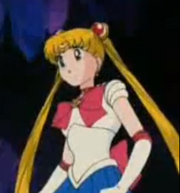 is the title character and leader of the Sailor Senshi and the secret identity of Usagi Tsukino. This is the original depiction of the character created by Naoko Takeuchi.
She was the first Senshi to be awakened by the moon cat Luna and the second Senshi to be awakened. She is the only Senshi that appears in every chapter of the manga.
Profile
When Usagi fights evil as Sailor Moon in the beginning of the story, she is portrayed as a "reluctant heroine", who is unwilling to fight and flees from her enemies, often having to be bailed out or rescued by others, especially by Tuxedo Mask. Throughout the series, Usagi begins to develop into a mature, confident, and reliable lady, but has her crybaby moments every now and then.
Appearance
Sailor Moon's original fuku consists of a white leotard with a blue collar that has three stripes on it, light yellow shoulder pads, and a blue skirt, along with a red bow on the chest and at the back. She also wore a pair of red knee-high boots with a white border at the triangular top and crescent moons, gold earrings consisting of a stars with a crescent moon beneath, white-bordered red circular hairpieces (one on each odango), feather barrettes in her hair, and a choker with a golden crescent moon on it with a clip that is similar to her transformation brooch attached to it. Her brooch is worn on the middle of her chest bow, along with a mask that disappeared in Act 16.
Her tiara has changed a few times in the manga; at first it was a golden tiara with a red gem in its center. It later disappeared after she threw it at Jadeite in Act 3. A new one appeared in Act 4 which looked like the old one, but the gem in the center was bigger. After she met Sailor Venus in Act 8 the tiara changed into a crescent moon with a gem in the middle.
Community content is available under
CC-BY-SA
unless otherwise noted.