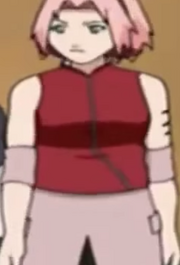 A Shinobi from the Hidden Leaf Village. She is a member of Team Kakashi, and was trained by the 5th Hokage Lady Tsunade. She is married to Sasuke Uchiha.
Missions
Team Kakashi is sent out on a mission by Tsunade to a location known as "The Hole" to investigate an incident where its people were killed. 
Jutsu
Chakra Transfer Technique
Combined Summoning Technique
Four-Corner Sealing Barrier
Inner Sakura
Mitotic Regeneration: One Hundred Healings
Ninja Art: Mitotic Regeneration
Ninja Art: Summoning Jutsu: Katsuyu
Puppet: Spring Punitive Attack
Release
Regenerative Healing Jutsu
Remote Healing
Reserve Seal
Reserve Seal: Release
Naruto Screenshots
Naruto Shippuden Screenshots
Community content is available under
CC-BY-SA
unless otherwise noted.