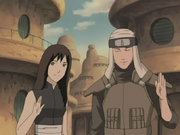 She was a kunoichi of Sunagakure. She was also the mother of Sasori and the daughter-in-law of Chiyo.
History
She and her husband were killed by Sakumo Hatake during a war, leaving Sasori in the care of his grandmother Chiyo for much of his childhood. After learning the art of puppetry, Sasori created puppets with their likeness, in the hopes that doing so would help him feel loved. Because they were still only puppets, this failed, and Sasori lost interest in the two and left them behind when he defected from Sunagakure.
Legacy
With his departure, the puppets came into the possession of Chiyo, who once used them against Sasori, and ultimately to their current wielder Kankurō.