Scooby Universe is a former hour long Cartoon Network block that aired Monday through Friday in 2003. Scooby Universe showcased the various Scooby-Doo Cartoons created by Hanna-Barbera, including: Scooby-Doo, Where Are You!, The 13 Ghosts of Scooby-Doo, The New Scooby-Doo Movies and A Pup Named Scooby-Doo, among others.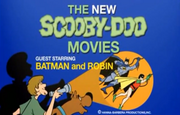 Characters
Aliens
Nations
Canada
China
China (Scooby-Doo! Mystery Incorporated)
Congo
Costa Rica
India
Ireland
Ireland (Be Cool, Scooby-Doo!)
Italy
Russia
Russia (Scooby-Doo! Mystery Incorporated)
Community content is available under
CC-BY-SA
unless otherwise noted.