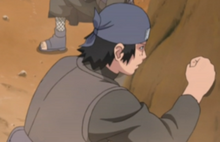 Shibito Azuma (東シビト, Azuma Shibito) was a jōnin of Iwagakure.
Background 
During the Third Shinobi World War he led a battalion of Iwa shinobi against Konoha's. He almost broke through Konoha's defences, but was defeated when Minato Namikaze arrived on the battlefield.
Personality 
Shibito seemingly had a cruel side as he opted to have his comrades toy with the remaining Konoha-nin on the battlefield instead of killing them directly.
Appearance 
He had short black hair and wore the standard attire of an Iwagakure shinobi inclusive of flak jacketand a forehead protector which he wore like a bandanna.
Trivia 
His family name, Azuma (東), means "east", while "Shibito" is alternate reading of 死人, which means "corpse".
He is the first, and so far the only Iwagakure ninja to have a known surname.
Community content is available under
CC-BY-SA
unless otherwise noted.