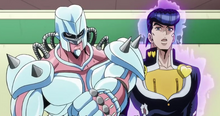 Crazy Diamond (クレイジー・ダイヤモンド Kureijī Daiyamondo)is the Stand of Josuke Higashikata, featured in Diamond is Unbreakable.
Crazy Diamond is a short range Stand, which like Jotaro Kujo's Star Platinum, is characterized by its physical might and speed at the cost of a short range of 2 meters. Its basic characteristics are:
Super Strength: Crazy Diamond possesses immense physical strength, having been able to easily punch through the abdomens of two people at once. Its strength matches that of Star Platinum's, having once successfully broken its defense and prompting Jotaro to deem that Star Platinum would have difficulties against Crazy Diamond in a contest of strength.[3]
Super Speed: Not only is it capable of surprising an on-guard and fully charged Red Hot Chili Pepper, Crazy Diamond can outpace other Stands such as Highway Star in close combat. Josuke estimates that its strikes exceed 300[4] km/h (190 mph). It was also able to catch a bullet fired in close proximity to Josuke.[5]
Precision: According to Jotaro, it can effectively fire off a rifle bullet from its fingers up to 50 to 70 meters when Josuke concentrates.[6]
Thus, Crazy Diamond is a powerful Stand in close-quarter combat whose capabilities are enhanced by its unconventional power of repairing broken items, making it a redoubtable and unpredictable Stand in a fight, but also an invaluable fighting partner as it can effectively heal any wound.