We're Getting Mutants in the MCU - The Loop
Play Sound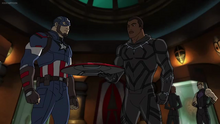 Black Panther (real name T'Challa), is one of the potential Avengers recruits. Iron Man located him via J.A.R.V.I.S. he appeared to be operating in Wakanda, Africa.
History
As T'Challa spoke before an the United Nations, Captain America protected the assembly from Crossbones who has been hired to take out T'Challa. After helping Cap to take out Crossbones, T'Challa made off with Cap's shield claiming that it was stolen property. Cap to brought in the Avengers for help and they traveled to Wakanda in order to reclaim it. During the confrontation, Black Panther claimed that Howard Stark stole Vibranium in order to make Cap's shield. To make matters worse, a reassembled Klaw appeared and made off with Cap's shield upon using a sound attack on the group. Both sides worked to find Klaw Cap told to Black Panther that T'Chaka gave the Vibranium to Howard to make into Cap's shield. Tracking him to a hideout in the Himalayas, the Avengers and Black Panther engaged Klaw in an armor made out of Vibranium. With a special tactic, the Avengers and Black Panther were able to knock Klaw out of the armor as Black Panther planned to make Klaw answer for his crimes. With Klaw's Vibranium armor in Wakandan custody, Black Panther changes his opinion of the Avengers and is offered reserve membership into the group.
Secret Wars
When the Avengers go missing, Black Panther forms the New Avengers to take their place and find out where they have disappeared to.
Powers and abilities 
Super strength
Enhanced speed
Expert pilot
Appearances
Avengers World
Panther's Rage
Screenshots