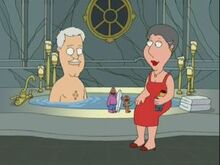 Robert Edward "Ted" Turner III (born November 19, 1938) is an American media mogul and philanthropist. As a businessman, he is known as founder of the cable news network CNN, the first dedicated 24-hour cable news channel. In addition, he founded WTBS, which pioneered the superstation concept in cable television. As a philanthropist, he is known for his $1 billion gift to support UN causes, which created the United Nations Foundation, a public charity to broaden support for the UN. Turner serves as Chairman of the United Nations Foundation board of directors.
In "Peter, Peter, Caviar Eater", he held a press conference to announce the success in his project of colorizing the moon.
In "Screwed the Pooch", it was revealed he is part of the poker group mainly consisting of Carter Pewterschmidt, Bill Gates, Michael Eisner, and, for one night only, Peter Griffin. The other three wealthy men do not like him and find him annoying. He often explains the humor in jokes. Later on, Peter helped Carter win a poker game against Turner, prompting him to leave in anger. It is later revealed that he impregnated Seabreeze, Carter and Barbara Pewterschmidt's prized dog.
In "Peterotica", Carter's losses from the Peterotica lawsuit made him poor, resulting in Barbara leaving him for Turner. The couple is made rich again after Barbara divorces Turner and takes half of his assets.
Filmography
FG201 "Peter, Peter, Caviar Eater"
FG313 "Screwed the Pooch"
FG424 "Peterotica"
Community content is available under
CC-BY-SA
unless otherwise noted.