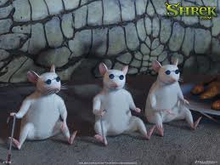 The Three Blind Mice are identical white mice brothers that are blind and can't see anything throughout the entire course of the films.
Appearances
Shrek
They are banished into Shrek's swamp by Lord Farquaad. Shrek notices the Three Blind Mice first, walking over the table.
Shrek 2
They have a larger role. They are three of Shrek's friends who watch his swamp while Shrek and Princess Fiona are visiting Far Far Away. Later, along with Gingy, Pinocchio, Big Bad Wolf and The Three Little Pigs, they save Shrek from the Fairy Godmother.
Shrek The Third
The Mice have very little screen time in the film. They appear briefly at King Harold's funeral, and then say goodbye to Shrek, Donkey and Puss when they go on a quest to find Artie.
Shrek the Halls
The Three Blind Mice join Shrek and the others for Christmas at Shrek's swamp.
Shrek Forever After
They made cameos in the normal universe, celebrating the Ogre Triplets' 1st birthday.
Scared Shrekless
They were seen in Shrek's swamp with Donkey, Puss, Three Pigs, Gingy, Pinocchio, Wolf and they were last seen when they were walking in circles.
Trivia
One of them is named Gordon.