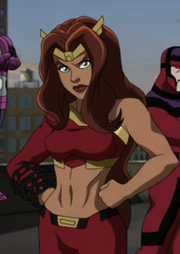 Thundra appears in Ultimate Spider-Man, voiced by Tara Strong. She first appears in the pilot episode "Great Power" as a member of the Frightful Four. She returns in the following episode, "Great Responsibility," where the Frightful Four nearly capture Spider-Man. Thundra is defeated with help from Power Man, and is last seen hanging bound and gagged from a building. When Peter describes each of the Four he refers to her as "a ruthless warrior woman from an alternate future timeline" and adds a "Don't ask" about her history.
Screenshots
Community content is available under
CC-BY-SA
unless otherwise noted.