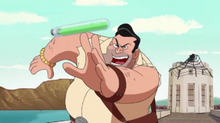 Tim Buktu makes his debut in Villain Time, where he starts various incidents to make himself look like a hero. One of his incidents accidentally broke a dam, and this forced him to work with Ben to repair it. He is sent to prison because of these incidents.
Appearances
Villain Time (first appearance)
Etymology
Timbuktu is a historical city in the West African nation of Mali.
Trivia
He is similar to Carl Nesmith. Both of them set up scenarios in order to make themselves popular, and both are disgraced by the end of their debut episodes.