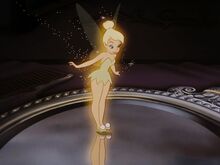 Tinker Bell (also nicknamed Tink or Miss Bell) is a sassy fairy and major character in Disney's 1953 film, Peter Pan. She is Peter Pan's sidekick, and regularly joins his exploits throughout the magical isle of Neverland.
In the many years since her inception, Tinker Bell has become one of the main spokes-characters for The Walt Disney Company (along with Mickey Mouse ad Jiminy Cricket) and one of its most popular and iconic characters (mostly known for flying towards the screen with a thin wand in her hand, waving it and causing fairy dust to fly out to the screen).
Since the release of the original Peter Pan in 1953, Tinker Bell has been known for being a silent character up until the release of her very own 3D computer-animated film Tinker Bell and all of its ever-expanding sequels.